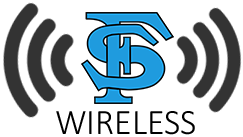 Introduction
Freeman School District wireless network is available in all buildings on campus allowing; students, faculty, and staff to access network resources. Staff and Students with compatible laptops, smart phones, and other hand-held devices can roam within a wireless network service area and have access to the Internet, applications and their email. Freeman School District's wireless network is secure for students, staff, and faculty to ensure the highest level of protection using your FSD issued username and password.
How To Connect
In order to gain wireless access, an account is required. For students, faculty, and staff, your FSD issued login and password are what you will use to log on to the secured 'FSD-Users' wireless network.
Step #1

Select the wifi SSID 'FSD-Users' from your device's list of available wireless networks.

Step #2

Open a browser and load any URL; you will be redirected to a FSD access page

Step #3

Enter your issued FSD Network Credentials

Enter your username (jdoe)
Enter your password (same as for logging into your computer or email)

Step #4

After successful authentication, you will be redirected to Google's Homepage.
Acceptable Use
By logging on to the FSD-Users Network, you agree to abide by the following terms:


Content. Users of the FSD-Users wireless network will receive filtered access to the internet but will not be provided with access to any internal FSD resources. All access is monitored, filtered, and falls under the acceptable use guidelines of the district.

Personal Responsibility. The district assumes no responsibility for the loss of, theft of or damage to any personal device connected to the wireless network or any information on that device.
Technical Support
Any problems or service requests can be initiated by email or calling the FSD Technology Director at 509-291-7511 or treed@freemansd.org
| | |
| --- | --- |
| | Complete printable instructions with pictures download the PDF below |